A Certified Professional Midwife
is an independent practitioner who has met the standards for certification set by the North American Registry of Midwives (NARM) and is qualified to provide the Midwives Model of Care. The NARM certification process recognizes multiple routes of entry into midwifery and includes verification of knowledge and skills and the successful completion of both a Written Examination and a Skills Assessment. The CPM credential requires training in out-of-hospital births.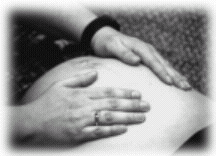 A Direct-entry midwife
is an independent practitioner educated in the discipline of midwifery through self-study, apprenticeship, a midwifery school, or a college- or university-based program distinct from the discipline of nursing. A direct-entry midwife is trained to provide the Midwives Model of Care to healthy women and newborns throughout the childbearing cycle primarily in out-of-hospital settings.
Midwives Model of Care is based on the fact that pregnancy and birth are normal life events. The Midwives Model of Care includes:
monitoring the physical, psychological and social well-being of the mother throughout the childbearing cycle;
providing the mother with individualized education, counseling, and prenatal care, continuous hands-on assistance during labor and delivery, and postpartum support;
minimizing technological interventions; and
identifying and referring women who require obstetrical attention.
The application of this model has been proven to reduce the incidence of birth injury, trauma, and cesarean section. © 1996-2001 Midwifery Task Force